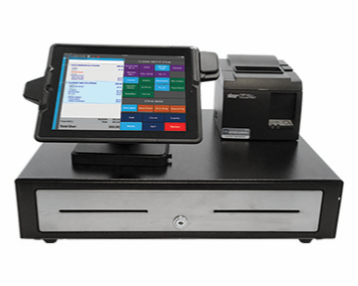 MobileBytes can help you to build business and streamline operations with a rich & powerful feature set designed specifically for restaurants.

Advanced Communication Features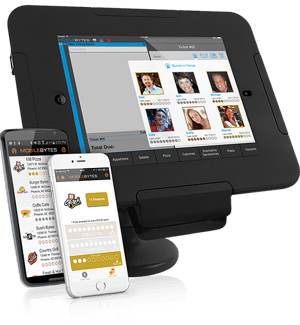 Built-in Loyalty
Encourage guests to download the MobileBytes app to participate in your loyalty program and earn point-based rewards set by you. Communicate daily specials and other reminders to customers in range using push notifications.
Customer Notification Texting
Let customers know their order is ready for pickup with a text sent through the iPad in just two quick taps.
Wait List with Texting

Maintain and manage your waitlist from any iPad, with special seating requests and a running time clock that shows how long it has been since the guest's name was added to the list. Send text notifications to guests when tables become available. Your host can assign new tables to server sections as guests are seated. For guests with the MobileBytes app, loyalty information is transferred to the table when it is assigned.

Comprehensive POS Functionality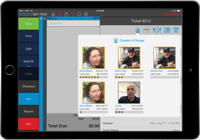 Loyalty/Guest information Interface
Quickly auto-populate guest information to attach checks to the loyalty program or assign delivery addresses.
Recent Order History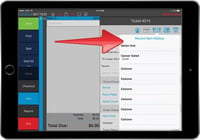 Start a ticket by adding a guest's recent favorites, with memorized modifiers.
Caller ID
Quickly populate memorized customer information by tapping the incoming call with multi-line caller id.
Start a Check with a Credit Card

Auto populate the customers' name and associated information with a simple credit card swipe. Sensitive data is immediately encrypted.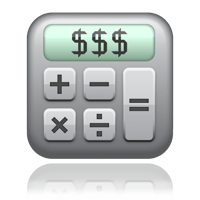 Advanced Check Splitting
Split checks by position number, by even division, or custom request, just by tapping and moving items into new split tickets. You can even split single menu items 50/50 and add them to separate checks. No hard math required.
Two-Tap Ticket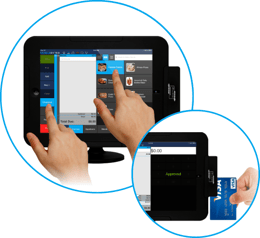 For Quick Service Restaurants that demand a fast pace, simply tap the item, tap the payout button, and complete the transaction. Move straight into your next transaction with a new blank check and keep your business flowing.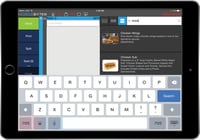 Menu Search
Search the entire menu by keyword to locate menu items quickly, from any order entry screen.
Coursing & Seat Numbers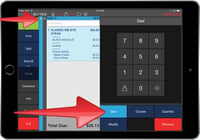 Servers can assign true restaurant coursing and seat numbers as they enter individual items or in a group before the check is sent to the kitchen.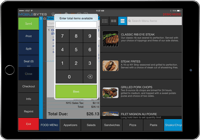 86/Item Available Countdowns
Managers can assign total orders available to menu items on the fly, with live countdowns to ensure servers won't mistakenly over-order items the kitchen has run out of.

Stunning Visual Interface



Kitchen Video Display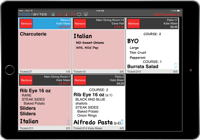 Great for quick service or high volume expediter situations. Assign any iPad to act as a KVD with custom font sizes and views, and a live clock indicating exactly how long each ticket has been in the kitchen. Search at a glance for tickets languishing on the line thanks to color coded ticket urgency levels. Restore removed or "spiked" tickets with a simple swipe and tap.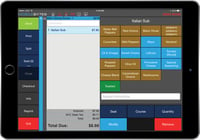 Custom Menu Build
There's no mistake about what goes on this sandwich because default ingredients show up in blue. Tap and change the color to change the sandwich composition. Default ingredients to be removed are denoted in the kitchen with a red strikethrough for clarity.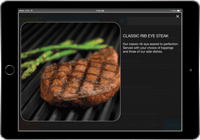 Vivid Photos & Menu Descriptions
Empower even the greenest of restaurant staff with menu descriptions and photos that can be used to engage customers and upsell. The same menu information transmits seamlessly to the built-in online ordering system.
Custom Table Layout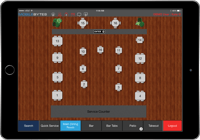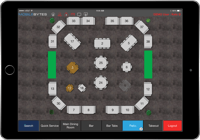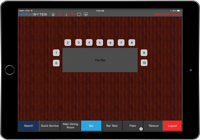 Arrange tables and manipulate room layouts easily with visually appealing and colorful floorpans that help your staff to differentiate dining areas.
combine tables with drag and drop

open multiple tickets on one table with ease
Color Coded Tables/Tickets
Scan sections at a glance to see which tables are in need of service with color coded indicators for tables not yet touched, in need of closing, on hold, or only partially paid. Search paid tickets and voids right through the iPad.

Delivery & Take-Out Value Adds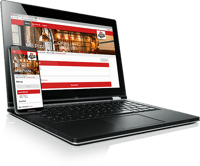 Online Ordering
Mobile responsive, advanced online ordering system with features that can be customized on the fly, including item availability, delivery mapping zones, and prep times.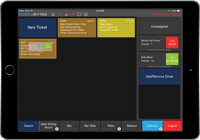 Delivery Driver Management
Keep track of drivers by seeing who is available and how long others have been out on delivery. Assign drivers to multiple orders with drag and drop functionality, sending a mapped text notification straight to their smartphones.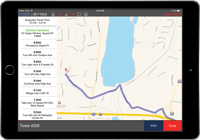 Delivery Mapping with Text
View, print, and text step-by-step driving instructions between your location and the customer's address.

The Most Advanced POS Technology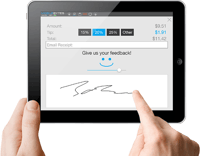 Signature Capture
Go paperless with digital signature & pay-at-table technology.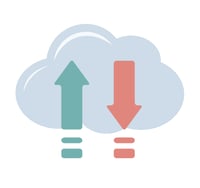 Cloud Management
Access and export reports, sales snapshots, payroll stats and data from anywhere with an internet connection with the MobileBytes secure portal. Add, adjust, and modify menu descriptions with ease, even from your smartphone.

Ultra Secure Encryption
End to end credit card encryption with tokenization is the most secure credit card platform available. Digital signature option also included.

Reliable Network
Our hybrid cloud model means we rely on your local network and not outside internet connectivity to keep your business running. Even if you lose outside internet connectivity, communication between devices is not interrupted.

Cervion Support
The personalized, local, and expert support you've come to expect from the Cervion Systems team comes with the package

.