MobileBytes iPad POS has added a great new restaurant web ordering system, and it's included in the price for new & existing customers!
At Cervion Systems, we'd been on the lookout for a long time for a tablet system or iPad Point of Sale solution that would satisfy the unique needs of our restaurant customers without compromising functionality. So when our partnership with MobileBytes iPad POS was solidified last year, we were eager to see the system's online ordering solution take off.
Just a few months later, that day has arrived - the restaurant software development team at MobileBytes has come through on their promise to debut a stunning online ordering system for restaurant customers that integrates directly with the iPad POS.
Here's a few of our favorite features...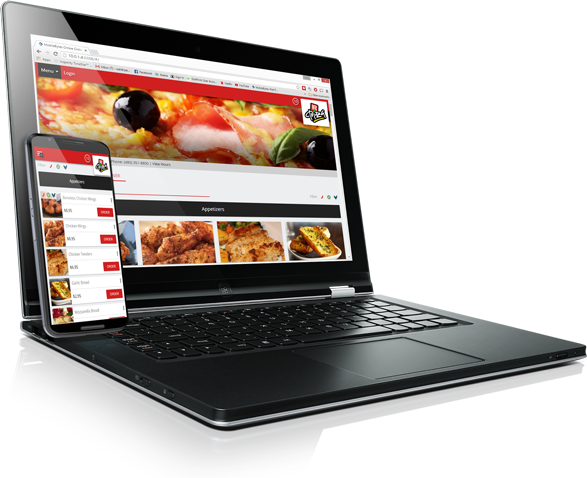 1. It's completely and beautifully mobile responsive. It's easy for restaurant customers to place orders using smartphones and tablets, with no additional work or fees for the restaurant owner. Good thing, because statistics show that 30 percent of web users will abandon a purchase if the experience isn't mobile responsive.
2. Menu images and vivid food descriptions do the upselling for you. The menu descriptions and food images that you use in the POS transmit automatically to the online ordering system, so your customers get a taste of what's available. With attribute categories that can be assigned to group menu items, takeout customers can search for spicy, vegetarian, low fat, or gluten free options with ease.
3. You customize delivery mapping zones. Customers can see your delivery area and are blocked from placing delivery orders outside the zone.
4. Advanced online ordering controls are easy to access and change on the fly. Payment types accepted, minimum dollar amounts for delivery, menu section availability times, and individual item availability can be adjusted easily through your POS cloud portal.
5. Chefs and managers can control the flow of web orders and deliveries. In case the kitchen is overwhelmed, you can suspend the abililty to place food orders on the web or change the anticipated kitchen prep time right from the MobileBytes iPad app.
6. Food delivery times are calculated based on prep time + driving distance. Customers can't place an order to be delivered 20 minutes away and ask for it to arrive in 10 minutes. The first delivery time available is the management designated food prep time plus the driving distance calculated by the MobileBytes app.
7. Food orders can be placed ahead of time. A 2 p.m. lunch order placed at 10 a.m. will show up in the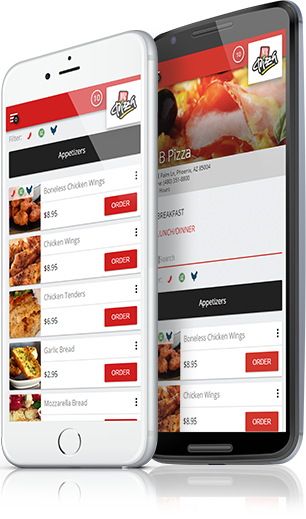 takeout or delivery section of the iPad instantly, but won't be sent to the kitchen until the designated prep time has been reached. Advanced food orders are easy to see thanks to a color coded check sorting system.
8. Web ordering only works when you want it to. Your restaurant web guests can only view menus during the times they are available, and these controls can be set and adjusted with ease. You can pause or suspend web order availability, set schedules in advance, and even remove web functionality just by turning off the iPad.
9. Matching your restaurant branding to your web order page is a breeze. Match your color palate with exact precision, and upload your logos, banners, and background images with ease. Customizing your MobileBytes online ordering system is as easy as changing up your Facebook page.
10. It's 100 percent included, for the life of your system. No surcharges, no upcharges, no fees whatsoever - for existing and new customers who sign up this year, the entire web ordering system is included at no extra charge for the life of your system.
Simple yet sophisticated, easy to use, and lightening fast - this great new mobile ordering system takes all the things we love about MobileBytes - memorized data, advanced delivery features, and a stunning customer interface - and delivers them to your restaurant guests on the go!
If you're already a MobileBytes customer, contact @cervion today about setting up your system. Looking for a great POS solution with integrated mobile ordering? Maybe it's time you placed your order!