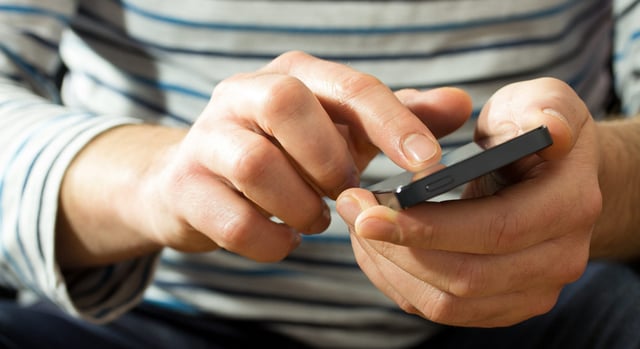 What if your staff took to your POS the way they take to their iPhones? With MobileBytes iPad POS for restaurants, training your millennial generation restaurant staff is easy. Here's 10 things about MobileBytes restaurant POS that you will already know how to do if you've ever used an iPhone...
1. Installing Software: Updating your POS software is as easy as using the App store.
Updating your legacy POS means shutting down your system and scheduling a time to have a support technician perform the install. Updating MobileBytes couldn't be easier - just navigate to the app store and run a quick software update like you would any other app.
2. Adding Photos: A pictorial menu update is as fast and easy as an instagram post.
With the ability to include photos and sync directly to your web ordering system, arming your staff with the tools to upsell your specials has never been easier. Snap a pic with your iPhone during family meal and add new or revised menu photos to your POS on the fly using your smartphone.
3. Finding Customers: The Magic of Smart Search.
The oh-so-satisfying autofill function you've come to expect from your iphone appears in the MobileBytes world too - a great time saver when searching for customers and delivery addresses.
4. Finding Your Way: MobileBytes POS for restaurants works with your existing map app.
Use maps on your phone? Enable maps through your MobileBytes cloud POS system to set delivery parameters for online ordering and send driving directions to your delivery staff.
5. Bubble Alerts: A restaurant POS that uses notifications you're used to.
Apple and company have done a great job of conditioning us to get excited when that little message bubble appears on our screens. In MobileBytes, it's how you'll learn about incoming takeout orders, food ready for pickup, and items on the 86 countdown list.
6. Make it Shake: Combine tables as you would rearrange apps on your homescreen.
Long hold until everything starts to shake, and drag that table wherever you want, so your host knows it's no longer up for grabs.
7. Dim Your Screen: Access controls from your iPad "settings."
Make adjustments through the same settings app you're used to using to control your devices at home.
8. Text Away: MobileBytes is a POS that can text alert restaurant guests.
Integrate text into your business and simplify communications with MobileBytes POS. Use the iPad text feature to summon guests on your waitlist or notify customers when takeout orders are ready for pick up.
9. Restart Fast: Reboot with the home button.
Restaurant owners who know the joy of rebooting a POS during service will truly appreciate the simplicity of a MobileBytes cloud POS restart. Tap the home button twice, swipe up, and you're back in business. No waiting required.
10. Unlock More: Use the iOS "long-hold" function.
Tap and hold a table, menu item, or a section of your customer's bill to reveal more options & information when you need it, and keep it hidden when you don't.
Ready to see the simplicity up close?
Schedule a MobileBytes product demo today!