Rapid advancements in POS technology have proved to us that cloud based systems like MobileBytes are the future of restaurant point of sale - and the future is now. If you haven't yet given serious thought to replacing your legacy system with a cloud POS, here's 7 big cloud POS advantages every restaurant owner should consider.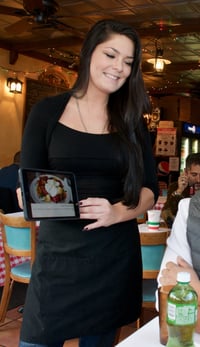 #1 - Mobility Pay at table, digital signature, and efficient ordering flows are just a few of the exciting advantages made possible through tablet technology. Now food truck and delivery drivers can take your POS on the road, managers can access reports from anywhere, and on-the-fly menu adjustments can be made via smartphone.
#2 - Aesthetics Modern POS is sleek, efficient, and unobtrusive. Whether it's a 13-inch iPad Pro, a standard ipad terminal on a pivoting base that frees up space on the service station, or a handheld iPad mini that fits perfectly into an apron pocket - the look and feel of POS has taken a turn for the better.
#3 - Millennial Technology Staff members born after 1980 have spent the better part of their lives immersed in tablet & mobile technology. They know the nuances right out of the gate and are more than comfortable using these lifestyle-defining products.
#4 - Rapid Advancement Updating your entire POS system is as easy as pressing "OK." With a rapidly progressing development curve, iOS point of sale technologies continue to add features and functions that are included at no additional cost. With unlimited & secure cloud storage, say goodbye to tedious maintenance purges and get used to your system running fast all of the time.
#5 - Data Security What do NASA, Netflix, Pfizer, and Yelp have in common? They all rely on Amazon Cloud technology to securely store data. Legacy POS systems store information locally, or physically on the computer. In the case of fire or flood, sales and menu data can be lost forever. Consider cloud technology an impenetrable fortress in the sky, and remove the possibility of vital data loss from the equation
#6 - Remote Management Cloud POS means system access from anywhere. From the small business owner checking live sales stats from their smartphone, to the payroll admin who can easily log in to grab a report, it's a welcome change from logging in to your back office machine on site.
#7 - Scalability Add more mobile tablets and workstations as you need them, scale back when you don't. Customize your setup to accommodate the seasonal flow of your business with a smart and flexible pricing model.