Cervion Systems has successfully deployed integrated EMV chip-card processing at a number of customer locations, and our MobileBytes cloud POS customers utilizing this new technology have experienced great results! Credit card transactions are being processed with chip technology, protecting both the merchant and consumer against credit card fraud and chargebacks.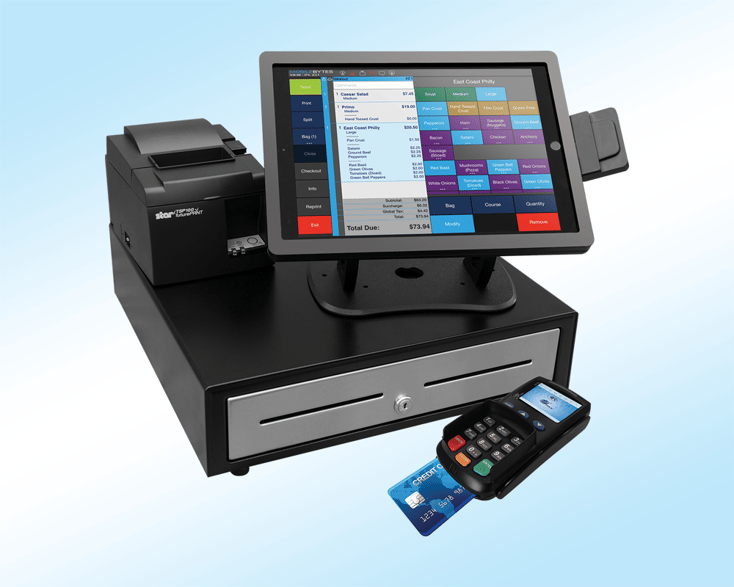 This cost effective solution can be added to a MobileBytes system for a low monthly cost. Cervion customers utilizing the technology report the investment is well worth it, as it effectively eliminates the opportunity for EMV related chargebacks that have beset some merchants since the industry's liability shift in Oct 2015.
Most importantly, the restaurant's transaction process and flow of service remains the same. Wait staff simply carry customer cards to the POS terminal, insert the card in the EMV reader to process the transaction, and then return the card and receipt to the customer. Tips are adjusted later - thus avoiding potentially awkward exchanges between server and guest.
While the transaction is being processed, restaurant servers are free to multi-task, making orders and adjustment to other checks within the MobileBytes point of sale. The card transaction takes place in a separate, dedicated device, adding an extra layer of security. But, the processing and point of sale systems are integrated to eliminate the need for any double entry. Cervion customers enjoy the ease of fully reconciled payment reporting without running the risk associated with the card swipe technology that is gradually being phased out of the US credit card processing world.
If you have any questions or concerns about implementing EMV card processing, don't hesitate to give us a call!