Did you know Samsung Pay, Apple Pay, Google Pay, Fitbit Pay and mobile applications now support contactless payments? Many restaurants are considering whether to enable these modern payments solutions to better understand the benefits and costs of enabling them.
Contactless payment systems are credit cards and debit cards, key fobs, smart cards, or other devices, including smartphones and other mobile devices that use radio-frequency identification (RFID) or near field communication (NFC). In order to accept these payment methods merchants must have the equipment as well as a payment processing provider to support it.


The use of contactless payments has risen over the past few years, enabling consumers to embrace mobile payments. On October 14, 2014 Apple Pay was released with Apple's iPhone 6 and 6 plus. With this release contactless payments was introduced to consumers as an easier method to make and complete purchases. Android Pay (now Google Pay) launched a year later in September of 2015.


While consumers have been somewhat slow to catch on, IN the last 5 years contactless payments increased to nearly 5% of total credit card transactions worldwide.


By 2024 it is estimated that Apple Pay alone will be 10% of total transactions worldwide! (Source: Quartz, Feb. 11, 2020. "Apple Pay is on pace to account for 10% of all global card transactions.") These modern payment technologies are applicable to independent restaurants looking to boost take out and delivery sales: Online ordering, directly to restaurants on their own platform. Third-party delivery system like Uber Eats, Caviar and Door Dash collecting the payments are using this technology to load and store value or enable one time payments.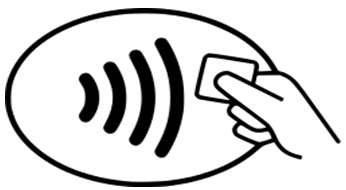 EMV contactless symbol used on compatible payment terminals

Cervion enables contactless options through the Point of Sale, online ordering, and mobile devices quickly and affordably. As consumers ramp up the use of these mobile payment methods, Cervion is here to support restaurants with contactless ready equipment and preferred payment providers. Contactless payments have been proven to be secure, safe, and a very fast way to process transactions.
---
Cervion Systems is a New York based Point of Sale provider with offices in New York, Pennsylvania, and South Florida. Founded in 1996, with over 20 years of experience, Cervion is one of the leading restaurant focused VAR (value based resellers). Cervion provides restaurants with local sales and service, modern tablet based point of sale systems and affordable As A Service plans for new and existing restaurants. Please contact Cervion Systems at (877) 476-7246 or sales@cervion.com for more information.